PS32X Masonry Restoration
This is an existing 1899 five story school with a 1918 three story addition. The project involved probing and evaluating the falling masonry conditions, and to provide a design for the repair of such conditions. The resulting $6.7M project involved an extensive masonry restoration project involving spandrel steel repairs, ornamental terracotta jack arch and jamb repairs and other selective masonry and window repair work.
1 Cast Stone
2 Bent Plate
3 Stone Anchor
4 Anchor Bolt with Injectable Mortar
5 Termination Bar
6 Flashing
7 Compressible Material
8 Backer Rod and Sealant
9 Repair Mortar
PS32X Masonry Restoration
PS42R Exterior Masonry Restoration, Roof Replacement
This is an existing two-story building with a basement that was built in 1926. The project involved evaluating the chronic water infiltration from the exterior walls and water infiltration at the basement level. The resulting $3.1M project involved developing a design of a waterproof drainage plane within the collar joint of the existing exterior wall. The project also involved composite replacement of a shingle roof with synthetic slate tiles with a snow retention system; limestone coping work, marble and granite water table work, interior plaster restoration and chemical grout injection work.
1 Plaster on Metal Lath
2 Existing Hollow Clay Tile
3 Concrete Repair Mortar
4 Fluid Applied Membrane Air Barrier, Vapor Retarding
5 Corrugated Drainage Panel with Filter Fabric
6 Corrugated Weep Legs
7 Flexible Stainless Steel Restoration Ties
8 Face Brick
PS42R Exterior Masonry Restoration, Roof Replacement
PS100Q Masonry Restoration, Parapets, Water Infiltration
PS 100Q is a four story school building constructed in 1930. The project involved assessing the cause of water infiltration and the cause of various deteriorated exterior masonry conditions.
The resulting $3.2M project involved an extensive masonry restoration project including ornamental terracotta replacement; glazed brick flat jack arch replacement, parapet and building conrner reconstruction, steel lintel replacement and other selective masonry work.
PS100Q Masonry Restoration, Parapets, Water Infiltration
PS32X Flood Elimination, Floor Replacement, Heating Plant Upgrade, Fire Alarm and Low Voltage Upgrades
PS32X is an existing 1899 school, five stories with a cellar and approximately 82,000 SF. The project involved evaluating the condition of severe flooding and assessment of a failing structural clay tile floor assembly. The resulting $18M project included site drainage improvements, reconstruction of the first floor/ceiling assembly, reconstruction of a new cafeteria, kitchen, toilet rooms, and a complete boiler replacement and various MEP system upgrades. A temporary kitchen with toilet facilities was also provided in the play yard area as part of the phasing work of the project.
PS48Q ​​​​​​​Flood Elimination
PS48Q is an existing 1936, three story building with a cellar. The project involved evaluating groundwater levels and to provide a design for the control of water infiltration in the cellar. The resulting $2.2M project involved developing a sheet mbmbrane type waterproofing system with a concrete topping slab to resist hydrostatic pressure; and a pressure injected resin type waterproofing system. Also part of the design was the installation of pressure reliefs to provide additional protection against a temporary rise in groundwater levels.
Jamaica Learning Center Exterior Masonry Restoration, Roof Replacement, Auditorium Upgrade, Fence Replacement, Electrical Upgrade
Jamaica Learning Center was built in 1895. This $6.5M project involved the repair of heavy timber wood trusses, complete roof replacement, extensive masonry restoration including restoration of brick corbeling, restoration of the auditorium including replacement of original stamped copper panels, site work including fence and sidewalk replacement work. The project also involved a building wide electrical upgrade.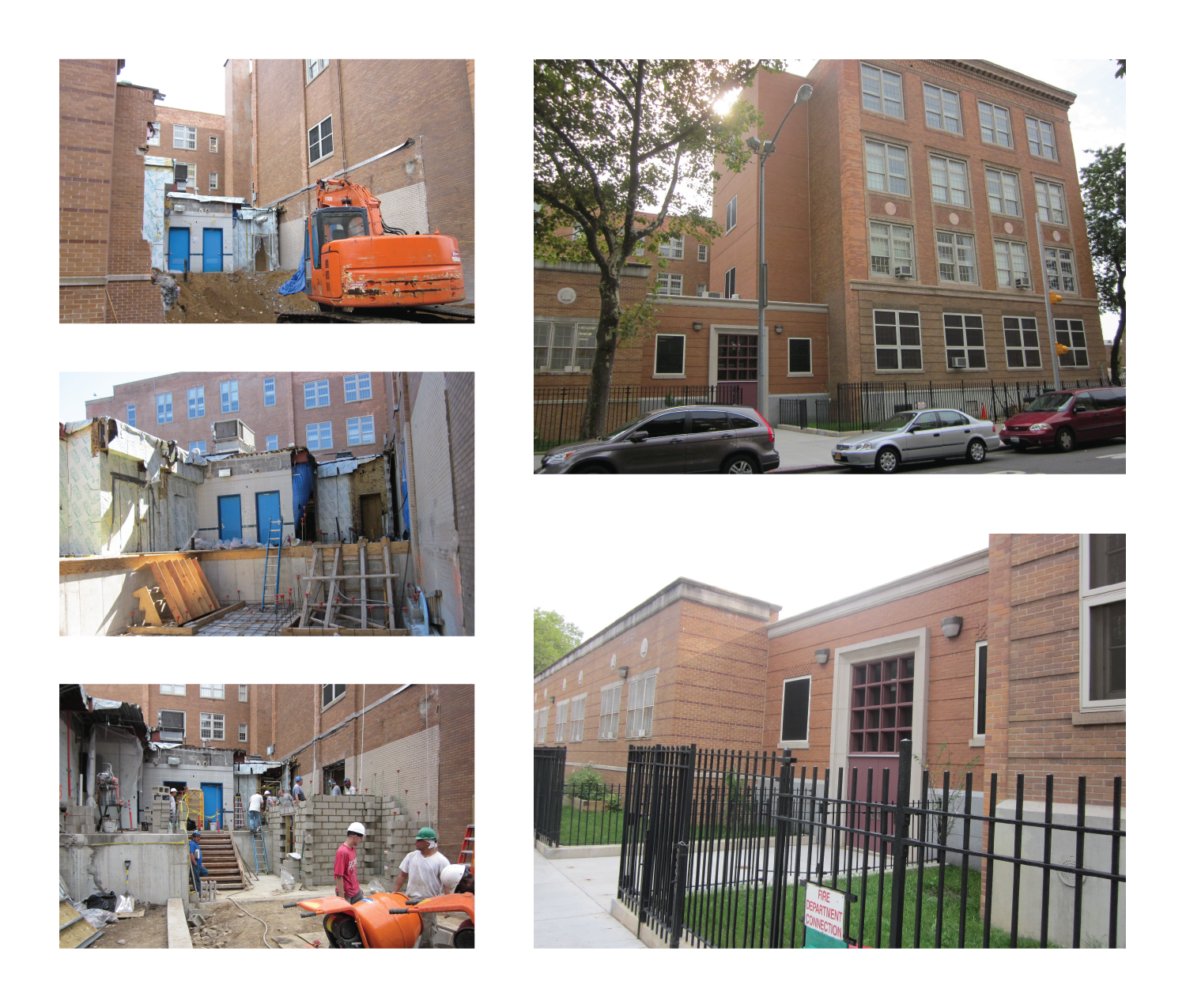 IS230K Full Accessibility Upgrade
The existing 4-story, 75,000 SF building was renovated to provide 'function programmatic accessibility,' that resulted in a $4.5M renovation project. The project included a building addition to house the new elevator, and reconstruction of an existing one-story entrance vestibule. A temporary egress corridor was constructed to allow for continued occupancy. Accessible toilets, door hardware and classroom sinks were provided throughout the building.
IS30R Library Upgrade
This project involved renovating an existing dated library into a state of the art multimedia center. A dynamic ceiling is used to compliment the variety of functional seating areas.
IS 390K Stair Upgrade
This school was constructed circa 1970's, during which there was a stop in construction for a few years. The project involved evaluating the reasons for the chronic deterioration of the existing stairs. The resulting $1.2M project involved complete replacement of four stairs and the selective repair of two stairs.
IS 238Q Auditorium Upgrade
The existing 600 seat auditorium was completely renovated. Since the existing geometry and low ceiling were causing distinct echoes, a major component of this project was to improve the audibility of the space. The ceiling was modified to provide volume to the space and acoustical treatment was provided on the vertical surfaces. The $1.5M renovation included replacement of the existing seating, finishes and improvement tot he house lighting system and the repair of the stage rigging system.
Capital Improvement Projects